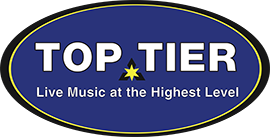 Event Inquiry

Please disable ad / popup blocker extensions in your browser if you are having issues with the contact form, You can also text or call us at (615) 319-6318. 
More Info
Top Tier is the best of both worlds—a fun, high-energy party band and a smooth, light jazz band all in one! So whether you just want a great dance band, or you also want some relaxing dinner/cocktail music before the party really heats up, look no further.
You can call or text us at: (615) 319-6318
Please fill out the contact form to email us.